Your Expert Partner in Power Washing Marketing
Are you a pressure washing company in search of a powerful online presence? Look no further than Local Leap Marketing, your trusted partner in creating impactful web designs tailored specifically for pressure washing businesses. Our dedicated team of web design experts understands the unique needs and aspirations of your industry, and we're here to elevate your brand to new heights in the digital landscape.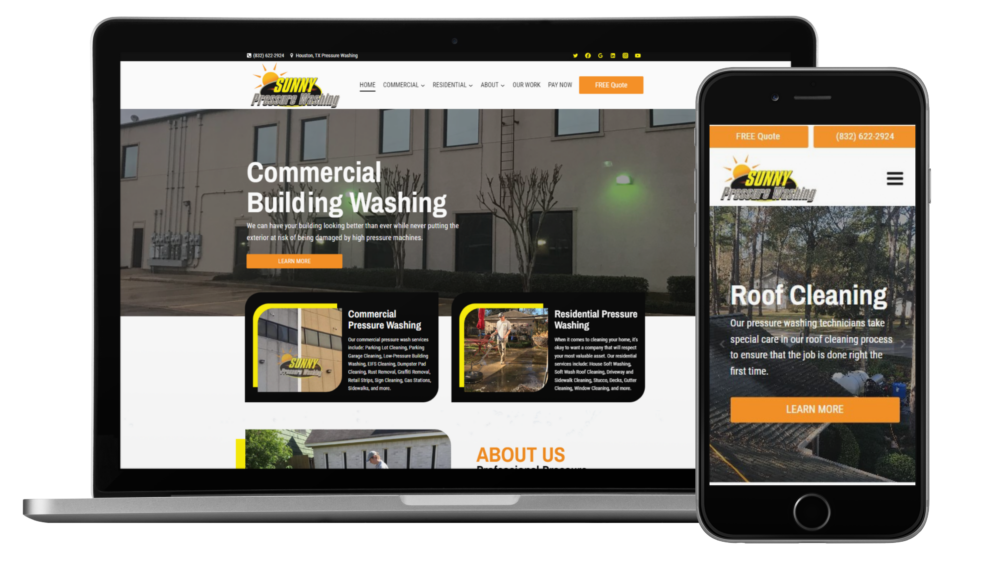 Why Choose Local Leap As Your Pressure Washing Web Designer?
At Local Leap Marketing, we believe that your website is more than just an online platform – it's your digital storefront, a reflection of your brand, and a vital tool for attracting and retaining customers. Our pressure washing web design services are carefully crafted to help you stand out from the competition and make a lasting impression on potential clients.
Tailored Designs for the Pressure Washing Industry
We understand that pressure washing companies have distinct visual requirements that set them apart from other businesses. Our experienced designers collaborate closely with you to create a custom website that captures the essence of your brand. From showcasing your expertise in before-and-after galleries to highlighting your specialized services, we ensure your website resonates with your target audience and drives meaningful engagement.
Mobile-Friendly and User-Centric Approach
In an era where mobile browsing dominates, having a responsive website is non-negotiable. Our pressure washing web designs are not only visually striking but also seamlessly adapt to various devices and screen sizes. This ensures that your potential customers have a consistent and enjoyable browsing experience, no matter where they access your site.
Optimized for Local SEO
Being visible to your local audience is essential for any pressure washing company. Our team incorporates cutting-edge local SEO strategies into your website design, ensuring that your business appears prominently in search engine results when potential clients in your area are looking for pressure washing services. From optimizing meta tags to creating location-specific landing pages, we're dedicated to helping you reach the right audience at the right time.
Conversion-Driven Design
A visually appealing website is only half the battle. We design with conversions in mind, strategically placing call-to-action buttons, contact forms, and lead generation tools throughout your site. By guiding visitors toward taking the desired actions, we help you turn website traffic into valuable leads and customers.
Experience the Local Leap Advantage
Local Leap Marketing has a proven track record of empowering pressure washing businesses with exceptional web designs that drive results. When you partner with us, you're not just getting a web designer – you're gaining a digital marketing ally dedicated to your success.
Ready to Elevate Your Pressure Washing Business Online?
Take the first step toward a dynamic online presence that reflects your brand's excellence. Contact Local Leap Marketing today to discuss your pressure washing web design needs. Let's work together to create a website that makes waves in your industry and attracts the clients you deserve.
Experience the Local Leap difference – where innovation meets pressure washing expertise.