Generate a FREE SEO Report!
Fill out the form and get a comprehensive website audit! Our website audit provides a clear, actionable, prioritized list of recommendations to help improve your website. Have a question? Click here to contact us.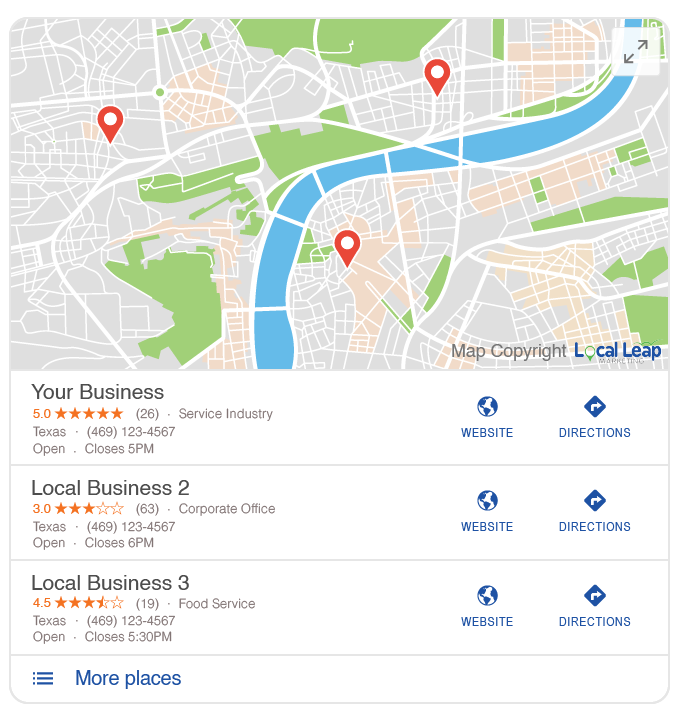 Why Do I Need a Website Audit?
A website audit provides a quick and easy to follow plan that will highlight the areas in which your website is strong and the areas in which it needs to be improved to stay in the top search engine rankings. Local Leap Marketing's website audit tool will uncover areas in which you are potentially losing customers and suggest solutions to resolve any SEO issues.
SEO issues can prevent your business from ranking organically and showing up in the Google 3-Pack. Ranking high in a local proximity search is invaluable. When your business appears in the 3-Pack, it's a surefire way to boost visibility to customers. Most consumers feel confident selecting from a small range of businesses hand-selected by Google.
Why Local Leap Markeing?
Our team at Local Leap Marketing has been helping businesses with their marketing since 2002. We have the experience and the skills to help grow your business. Anyone can create an SEO report for your website, but it takes experienced SEO professionals to create results. Learn More.
What Does The SEO Audit Include?
Detailed SEO Report
Our comprehensive website audit grades your website based on the strength of various SEO factors such as On Page Optimization, Off Page Links, Social Media Engagement and More.
Content Analysis
Are the page titles and descriptions within your website phrased appropriately? Can content be optimized for better use of keywords? We look at the meta tags, header tags, image tags, link structure, keyword consistency, and content length to determine the on-page SEO score for your website.
User experience
Is your website easy to read and understand for both customers and search engines? Is it mobile and tablet friendly? It is important that your page is optimized for mobile and tablet experiences as today the majority of web traffic comes from these sources.
Performance
Website performance is important to ensure a good user experience, and reduced bounce rates (which can also indirectly affect your search engine rankings). This measures server response time, total page size, page content load times, and how fast page scripts load.
Website Security
Are you creating the secure experience for your website visitors? Security is important to ensure your website protects user data, doesn't become compromised or experience downtime or data loss. We recommend ongoing patching and the continuous use of protective monitoring tools.
Social Media
Social activity is important for customer communication, brand awareness and as a marketing channel to bring visitors to your website.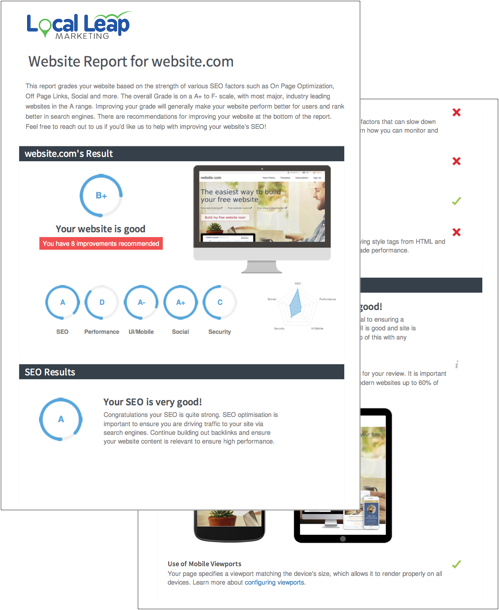 What Our Clients Are Saying:
★★★★★
"I cannot say enough positive things about Ryon and his SEO services. After having several bad experiences with competitors, we researched the industry to find the top SEO experts and found Ryon. We hired him for our health and fitness company and he immediately started working on our website and keywords. Within a few months, he had identified top keywords and quickly helped us get ranked as #1 for Google! When I had questions for Ryon, he was quick to educate me and even meet with our team to help us come up with new marketing strategies. Who does that!? We have been "wowed" since day 1 and will be a long term client with Ryon. Thank you for helping us grow our business and treating it like it's your own, Ryon!" -Daniel S.
SEO Audit Frequently Asked Questions
Need additional information about our search engine optimization services? Contact Local Leap Marketing today to learn more!