Local Leap Analytics™
All Your Data In One Convenient Location.
Website Analytics & Reporting
At Local Leap Marketing, we take data seriously. Your data specifically. We understand that when it comes to small business owners, particularly those of us most accessible and visible via the internet, SEO (search engine optimization) knowledge is power. For that reason, our SEO packages come with detailed reporting analytics designed to give you information you can respond to proactively for a competitive advantage. Want to know how often the keywords for the product or service you offer are being inputted by potential customers? We've got that data for you, down to the day of the week. In fact, we can tell you how your competitor's site ranks with your keywords. Wondering if that blog post you put out on Facebook, or that listing you purchased on your trade organization's website, is really driving people to your website? We can answer that for you, too, enabling you to decide where to spend your time and money the next go around. Local Leap Analytics™ gives you the SEO information you need to keep your brand healthy and competitive. It provides you with the data needed to make smart decisions and identify those paths with a solid return on investment.
Our SEO package comes with weekly reporting analytics designed to give you information you need for a competitive advantage. Streamlined Google Analytics integration with easy to understand metrics that highlight overall progress.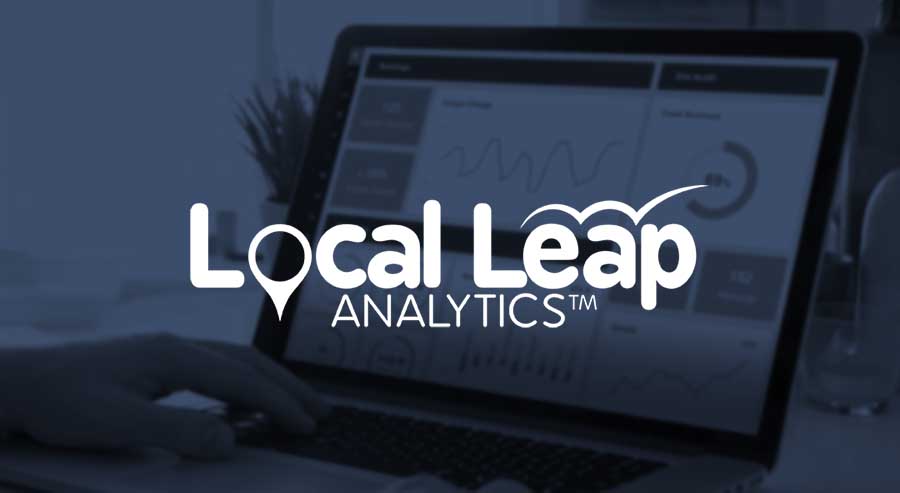 Monitor Keyword Rankings
What are people searching on Google to find the product or service you offer? Can you distill what you do, or the product you offer, down to a word or two effectively, and use those words well in your website content? In SEO, keyword knowledge is essential. It is the ticket to gaining website visitors. With Local Leap Analytics™ you'll be able to monitor how your keywords are trending. You'll be able to see how your keywords align with your competitor's web content. We provide keyword analytics by location and even language, when desired. Our reporting delivers knowledge that can highlight valuable customer tendencies. The data we monitor is further segregated by enduser device, meaning you'll know what people search for when they find you on their mobile device versus their desktop computer. With our Keyword Rank Tracking, you'll be able to identify and capitalize on emerging trends within your customer base, devising prognostic actions and reacting, when needed, to maintain your competitive advantage.
Competitor Analysis
With Local Leap Analytics™ you'll have regular access to key competitor statistics enabling you to react offensively and defensively to the competition. For example, we'll see what the competition's SERP (search engine results page) is and, with this information, be able to build effective online strategies to outrank or counter competing marketing. Our competition analysis also studies competitor search engine authority, again gleaning information to apply to your marketing strategies. Local Leap Analytics™ provides information you cannot afford to miss as you build and maintain your competitive advantage in the digital marketplace.
Backlink Monitoring
A backlink is a link to your website on an external or independent website. These are also commonly referred to as "inbound links." Backlinks are important to Google. Why? Because they signal to Google an incremental degree of legitimacy for the linked website. Something like a popularity contest, if many websites link to the same independent website, Google algorithms ascertain the directed-to site has information others commonly seek and the site, therefore, is assigned value. As a small business owner, you want to be on top of your backlinks. And, not only do you want to obtain your own backlinks, but you want to be a source of backlink for other websites with authority and credibility, from a Google search engine point of view, because that reflects positively on your site. At Local Leap Marketing, we provide you with the backlink analytics needed to uncover areas of opportunity. What's more, we assist our clients with a thorough analysis of their key competitor's backlink profile. With this knowledge, we can develop link building campaigns with measurable results.
Weekly SEO Audits
The SEO Audit Tool will crawl your site to identify and resolve technical issues. We can flag duplicate content and broken images. We identify and repair (or remove) server errors to ensure your SEO is not compromised due to website issues. Our systems find missing meta tags and other SEO-critical elements quickly, reducing the amount of time your site may sag in search engine ranking. Our ongoing site audit keeps your website in peak shape and a step ahead of the competition.
Advanced Analytics
Streamlined Google Analytics integration with easy to understand metrics. Data can be viewed by specific channels to highlight the most valuable traffic sources. Conversion information can also be captured to help focus on what works and what doesn't. The analytics reports can also show audience demographic data and behavioral metrics.
24/7 Access To Our Dashboard
Need immediate access to print reports and analyze website traffic? Our customized dashboard gives you complete control over how your information looks and when you receive reports. Need access for multiple users, we can easily create additional accounts for you and your team.
Google Search Console & Bing Webmaster Integration
No spreadsheets or confusing data to parse through. Easily analyze impression data, CTR, and crawl errors. Monitor top pages and see which ones are getting the most clicks.
Get Started with Local Leap Analytics™
Let Local Leap Marketing show you what 500+ of our customer's already know: SEO knowledge is power. Local Leap Marketing can supply you with the information you need to make the best decisions for your business. Contact us today to learn more about Local Leap Analytics™ and how our SEO reports can help grow your business!
Get An Estimate
Please fill out the form or give us a call and see what Local Leap can do for you!