Review Management
At Local Leap, we believe in the power of customer feedback and reviews to drive conversions. That's why we offer a comprehensive platform for managing the customer experience, helping you build a continuous cycle of feedback and reviews that you can use to grow your business.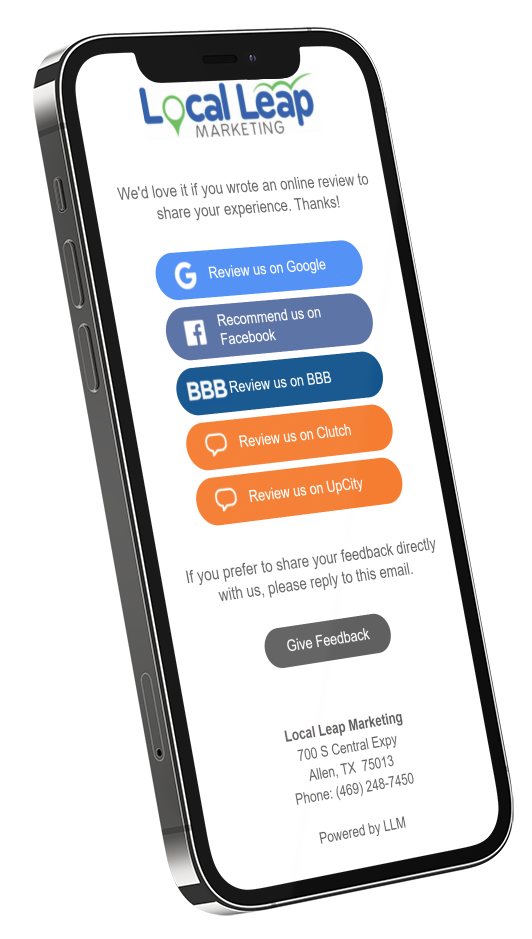 Do You Need Help Managing Reviews?
Word of mouth has long been the gold standard when it comes to local business marketing, and this is especially true for small businesses. Authentic written reviews from actual customers are the next best thing to in-person, direct endorsements of your product or service. Research shows that more than 50% of people will proactively search for online reviews before making a purchase with a business. These reviews are in demand and the modern digital marketplace affords a plethora of venues for customers to share their feedback about your business, i.e. Facebook, Google, Yelp, Bing, etc. and, of course, your own website.
Improve Your Online Reputation
Wouldn't it be nice to have all of the customer reviews from all the different platforms displayed in one place on your website? How about if you had a process for automatically capturing these reviews for display? And, what if you had a systematized, courteous, effective system for actively recruiting new customer reviews to add? This is exactly what you get with Local Leap Marketing's Reputation Management. We're in the business of marketing small businesses online and we know that proactive reputation management pays off big. For this reason, we put a lot of focus on this critical component of SEO.
Consolidate Your Reviews In One Easy-To-Find Location
On average, about 75% of your customers are going to visit your website before engaging with you. In addition to learning more about the products or services you offer, the potential customer is very likely to look for what others have had to say about you. Depending on many factors, including the type of business you are in and the activities you have used in the past to capture customer feedback, you're likely to have customer reviews displayed in various places throughout the internet. Our reputation management platform effectively pulls these reviews onto your website in one clean, concise format. Importantly, this process is continuous so you'll never miss out on a review you've earned; as you garner new reviews, the customer review section of your website will continue to populate.
Effectively Recruit For New Reviews
In SEO, the quantity of reviews ranks right up there with the quality of reviews. Not only the search engine itself, but the most effective engine of all – the human brain – will discount a business lacking in customer reviews. You need customer reviews. Our reputation management service includes proven tools designed to professionally seek and capture authentic customer reviews. Importantly, our tools are designed to discourage negative feedback through an honest, straightforward approach. Best of all, these customer touchpoints designed to encourage feedback are branded specific to your business, so you'll receive the added benefit of incremental brand awareness.
Build Your Customer Database As You Manage Your Reputation
Our reputation management strategy offers the ancillary benefit of enabling you to build a customer database of email addresses and other vital contact information. The custom-branded tools that recruit feedback will include an easy, intuitive process for your customers to share their contact details. You will, in turn, be able to capture and use the contact information your customer has shared for future marketing and support.
Partner with us to take control of your online reputation. Showcase all the positive feedback you have worked so hard to acquire. Effectively grow your database of customer reviews through a professional, positive, proven system. You cannot afford to leave your digital presence to chance and self-serving online search engines and aggregators. Local Leap is here to help you truly shine for your existing and future customers. You've earned it. Own it.
Ready to get started? Give us a call and let's discuss how we can improve your online reputation.
Our Happy WEB DESIGN Customers
Here's What Our Clients Are Saying