Local Directory Submission
There are over 50 combined directories, social outlets, business listing sites, and search engines online that are used to get results for your business listings. How can you be 100% sure that yours are right? Fill out the form below to get started!
Build Key Citations on Major Data Aggregators
Local Leap Marketing submits your business information to the four major data aggregators: Infogroup, Acxiom, Localeze and Factual. Thanks to this, your NAP (Name, Address, & Phone) information will be distributed to a multitude of local search directories. Our technology gets the job done every time. We're constantly managing the listings to make sure your business can be found online. We want business listings to not only exist but also be accurate and fully optimized. Contact us today to learn more!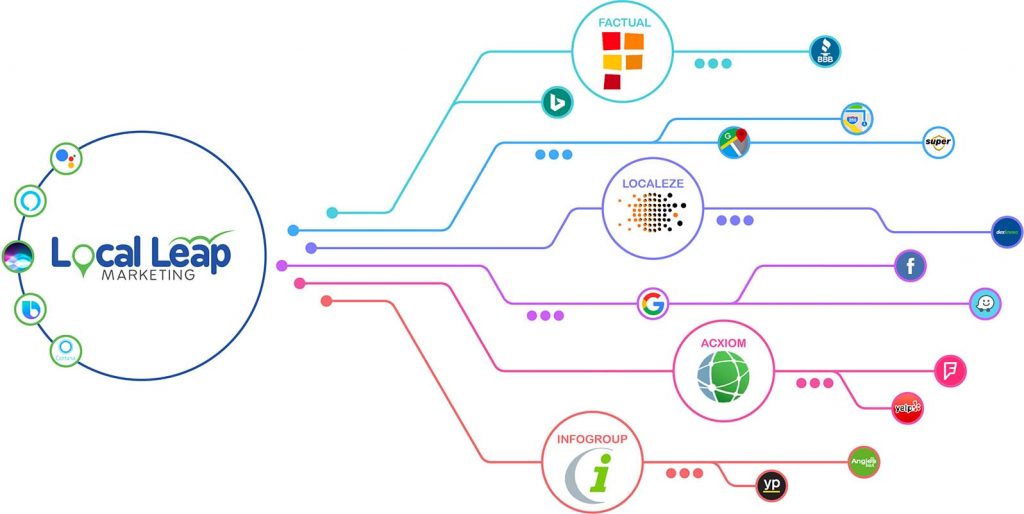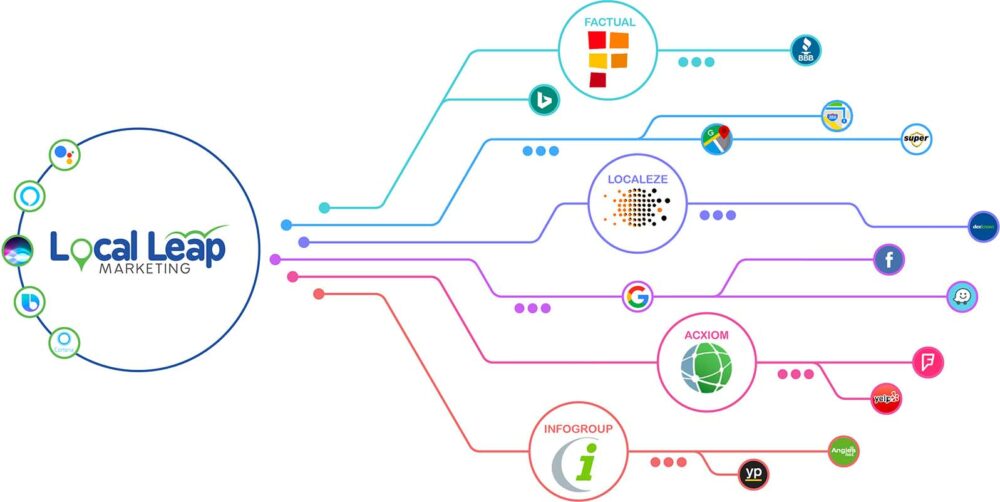 Local Leap Marketing offers amazing features to get your business great local search results.
Control Your Local Directory Listings
Updating each local directory puts you in control of your own listings on each site in our network. We automatically link to each of your listings, and whenever we update any information through your account, it updates everywhere, automatically. And it's not just your basic information like name, address or phone. You can add photos, descriptions, promotions (and more), to show up on your listings everywhere.
Inconsistent business location information across online maps, apps, directories, GPS devices, social networks, and search engines costs you real sales. We give you the ability to control your listings across 60+ partner sites, including Google, Bing,Facebook, Foursquare, Yahoo, and Yelp.
Single-Point Control Saves You Time
Since each listing is automatically updated across our network, you don't have to spend hours managing dozens of individual accounts for each site. Setup takes just minutes and your listings will go live in no time!
Publish Everywhere and on Every Device
We partner with the most established and popular search engines, maps, apps and directories across the globe. Leverage our direct connections to the local directory publishers to get your business found online.
Enhance and Drive Revenue From Your Listings
Help customers choose you by creating the most complete, rich, and accurate presence on all the search engines, maps, apps, and local directories where they search for local businesses.
Contact Local Leap Marketing today for a free local directory report!