About Local Leap
Local Leap Marketing has been helping businesses connect with their customers and grow their brands for more than two decades. We strive to help improve the communities we live in and we love what we do.
Who We Are
For over 20 years, Local Leap Marketing has been dedicated to fostering meaningful connections between businesses and their customers, while simultaneously contributing to the growth of vibrant communities. Since our establishment in 2002, our mission has remained steadfast: to provide exceptional value, surpass expectations with outstanding results, and deliver unparalleled customer service that sets us apart in the industry.
Our Mission
"Improve every day, provide value, be efficient, and always do more than you're asked. If it's a win for our clients, it's a win for us."
Service – Going Beyond the Extra Mile:
Exceptional service isn't an aspiration at Local Leap Marketing – it's our standard operating procedure. Our dedicated team of professionals, armed with two decades of industry experience, offers more than just services. We provide a unique blend of passion, proficiency, and personalized attention, delivering professional web designs, SEO strategies, and creative content that speaks your brand's language. When you partner with us, you don't just receive a service; we work closely with you and your team, going above and beyond to provide unparalleled value and exceed expectations, driven by our unwavering commitment and expertise.
Trust – Anchoring Success on Solid Ground:
At Local Leap Marketing, we don't just value your trust – we make it the cornerstone of our partnership. We understand that entrusting us with your brand's digital presence is a significant commitment, and we honor this with transparency, reliability, and a keen focus on delivering on our promises. Every campaign, every strategy, every decision we make is designed to validate your trust in us, laying the groundwork for a fruitful, lasting relationship.
Quality – The Compass Guiding Our Endeavors:
In the world of digital marketing, quality is what makes us stand out. At Local Leap Marketing, we know that your brand's reputation relies on the quality of our work. We don't just meet expectations; we aim to go beyond. We're always looking for ways to do things better, mixing new ideas with careful attention to detail to get the best results. To us, quality isn't just about the finished product. It's about the journey we take with you to get there – a journey filled with great customer service, open communication, and a laser-like focus on what makes your brand special.
Our Work
At Local Leap Marketing, we take immense pride in creating professional websites that elevate businesses to new heights. Our team of skilled designers and developers meticulously craft visually stunning and functional websites that reflect our clients' unique brands and values. With a keen focus on user experience and modern design principles, we ensure that every website we create is intuitive, responsive, and optimized for both desktop and mobile devices.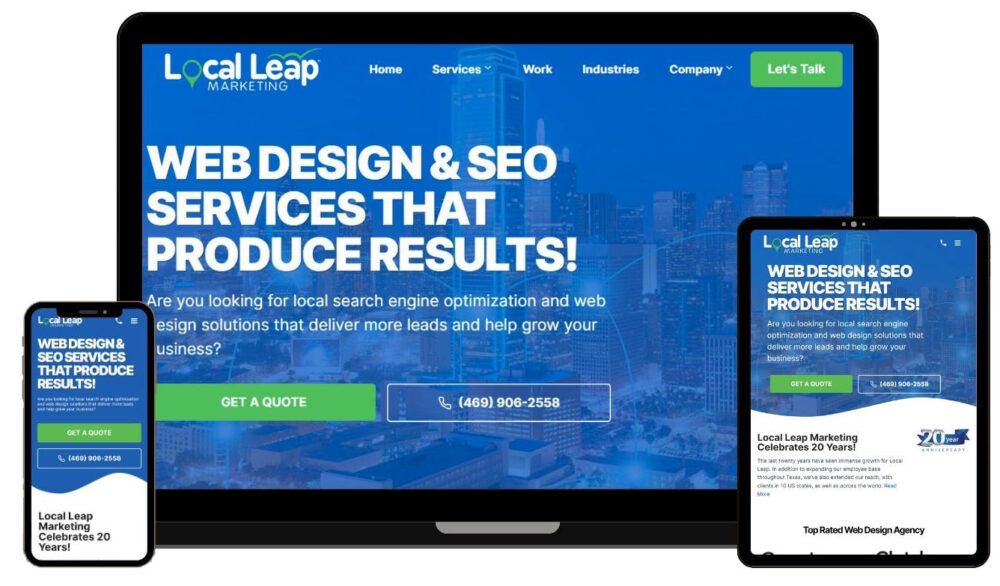 What We Do
We're rooting for the small business owner. The American Dream is built by small businesses. We understand, at the most fundamental level, your potential customers have to be able to find you online. What's more, you've got to standout within your local landscape. You want to get out in front of your target market to reach your full potential. We will work hard to get you there and we've got the results to back it up. To this end, Local Leap focuses primarily on two service offerings: Website Design and Search Engine Optimization, or "SEO." In a nutshell, we work to create the perfect digital presence and then we help you get it out there to the widest possible audience.
We want to be part of your growth story.
Working with Local Leap, you're going to know the people we have in your corner. There's no overseas outsourcing. We've worked hard to build a marketing team right here at home in Texas, each uniquely skilled in the necessary building blocks of SEO and overall web presence. And what makes our team members truly exceptional is their shared passion for seeing small businesses succeed.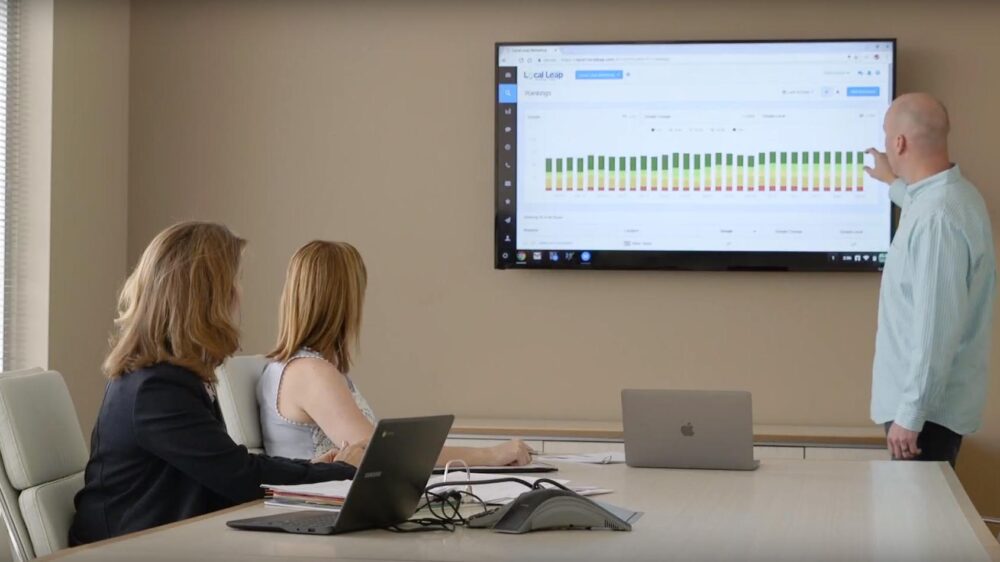 Join Us
It just seems to happen. Our team members become impassioned champions of the people we serve. We're fueled by the success we help create for our clients. Working in roles where we get to see so directly the fruits of our labor a sort of magic takes hold. Call it an on-the-job-perk. Call it synergy. Whatever it is, we love it and foster it and can't wait to share it with you.
Our Happy WEB DESIGN Customers
Here's What Our Clients Are Saying