Social Media Management
Build Relationships With Your Customers Through Effective Social Media.
Your Trusted Social Media Management Agency
At Local Leap Marketing, we understand the dynamic and ever-evolving landscape of social media. As a leading social media management company in the Dallas area, we offer tailored social media services designed to boost your online presence, engage your audience, and drive growth for your business.
Comprehensive Social Media Services
As part of our search engine optimization package, our social media management services are designed to transform your online presence. We craft high-quality content, ensure daily activity on your profiles, monitor engagement, and help grow your follower base. Our aim is to familiarize your audience with your brand, provide valuable content, and convert followers into loyal customers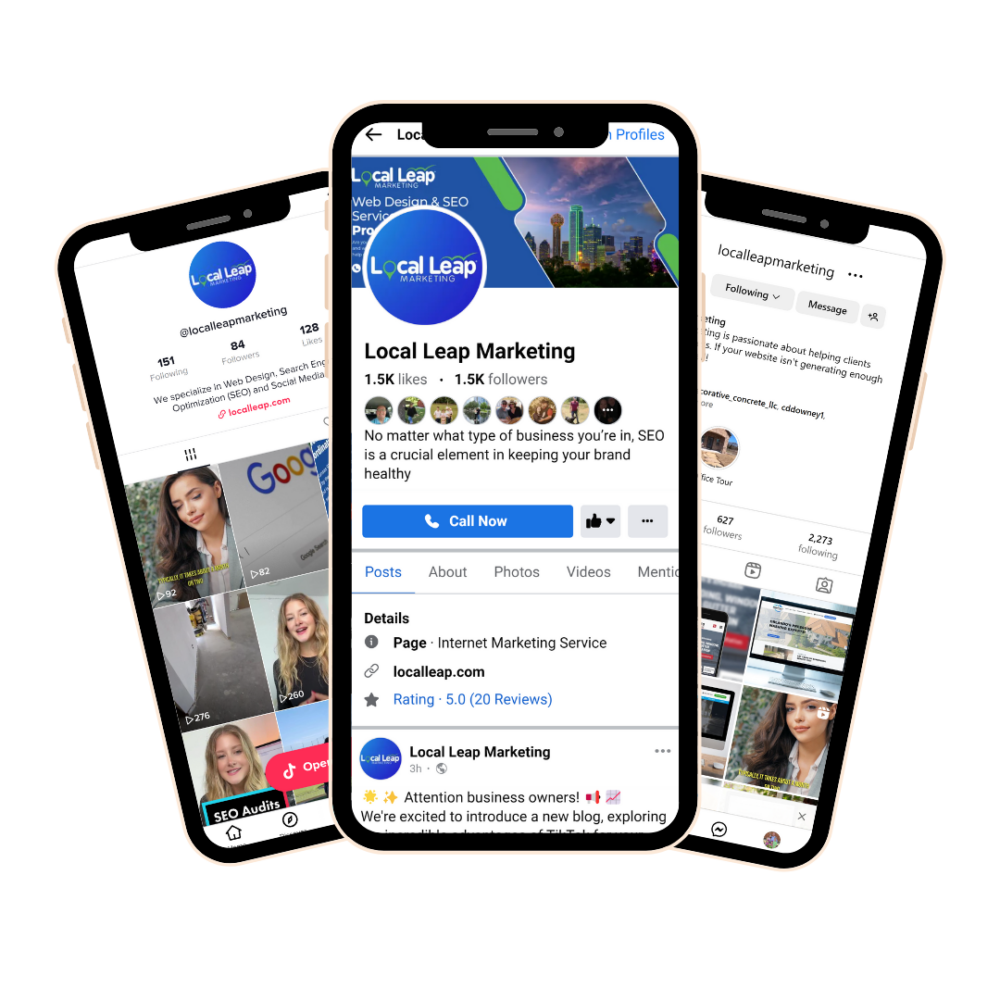 We manage social media networks including Facebook, Instagram, Twitter, LinkedIn, and Pinterest, acting on your behalf to implement strategies that align with your business goals. At Local Leap Marketing, we believe that a strong social media strategy is key to establishing a strong connection with your audience and realizing your business goals.
Tailored Social Media Strategy
We kick off our social media strategy by understanding what service your company offers and who your target audience is. This in-depth analysis allows us to create content that resonates with your audience, driving engagement and conversions.
Our team of social media experts brainstorm unique ideas suitable for various social media platforms and tailor these concepts to reflect your brand's voice and values. We are committed to testing, measuring, and optimizing our strategies to ensure your brand remains at the forefront of social media trends.
Result-Driven Approach
Our focus at Local Leap Marketing is not just about increasing followers but attracting targeted social media users who are most likely to engage with your brand and convert into loyal customers. We pride ourselves in creating content that maximizes engagement with your customers. Our proven methods have helped businesses across various industries to generate leads and increase sales through effective social media management.
Trust Local Leap Marketing
With years of experience in social media management, we understand how to optimize your social media channels to meet your marketing objectives. Our team is committed to driving real, qualified traffic to your website. Choose Local Leap Marketing, your partner for success in the world of social media.
Contact us today to find out how Local Leap Marketing can make your business leap ahead of the competition in the social media space.