Optimizing for the Google 3-Pack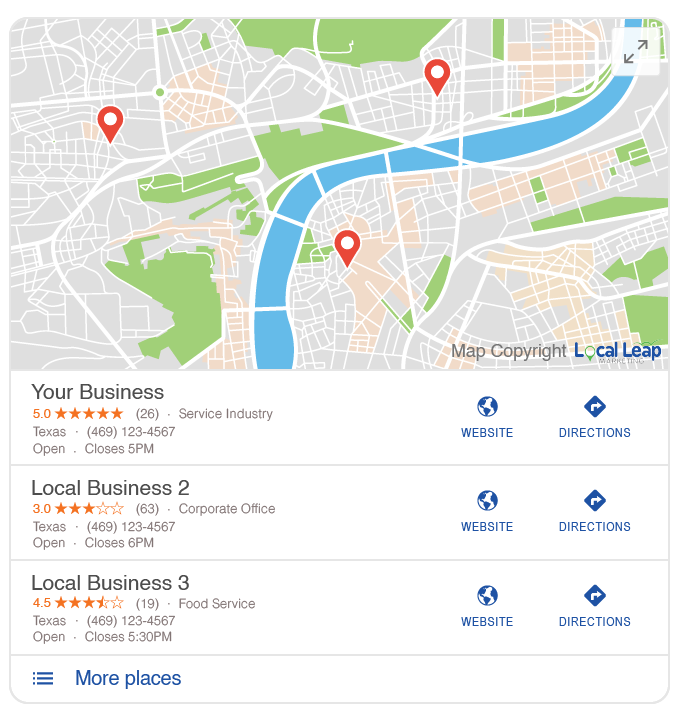 What is the Google 3-Pack?
The term "Google 3-Pack" is utilized to refer to Google's method of displaying search results— specifically the top three search results which appear on local search engine results pages (or SERPs).
Local SERPs appear when web users perform local-based queries. Examples might include trying to find the nearest cafe or looking up veterinarians in a given neighborhood. The bulk of local SERPs feature the traditional "Google 3-Pack" on top; these three results are intended to show the most relevant results to a web user's search and display them on a map.
Interestingly, the 3-Pack is actually an evolution of the now-defunct 7-Pack, which Google discontinued and chopped down to a more concise set of listings in 2015. The shift from the 7-Pack to the 3-Pack was about much more than showing fewer search results, though. The search engine used to display Google+ pages to rank businesses, but links now go straight to your company's website.
Changes were also made to make it easier for mobile users to leverage the 3-Pack. Google developers specifically created the 3-Pack with the modern web user in mind; now, local SERPs are easy to navigate on mobile devices. Those utilizing smartphones can easily see business addresses and hours instead of useless phone numbers or other more granular information.

Why You Should be Optimizing for the Google 3-Pack
Savvy marketers have long understood the importance that local SERPs hold when it comes to driving business. Those who have brick-and-mortar locations, especially, can see tremendous impact based on how easily (or not) searchers can find their business online.
Ranking highly for those closest to you (also known as those performing local-based queries) is invaluable. Appearing in the 3-Pack is a surefire way to boost visibility to customers; and most consumers feel confident selecting from a small range of businesses hand-selected by Google. Scoring a spot in the 3-Pack helps your business appear trustworthy and transparent; after all, Google likely wouldn't promote a business known for causing trouble.
Optimizing for the 3-Pack
It's important to recognize that you cannot technically fully optimize for the 3-Pack. This is because businesses which appear within the 3-Pack are also location-dependent. Search results will be ever-shifting based on where customers are making their queries from.
There are, however, steps that you can take to optimize for the Google 3-Pack with the above in mind. Tailoring your web presence in a way that'll land you a coveted spot in the 3-Pack is straightforward– it involves common sense, a little effort, and some time spent cross-referencing content to ensure it's properly optimized.
Ensure that your business' Google My Business page is filled out correctly
Whether your business winds up in the 3-Pack or not, most of the information that Google will pull for your listing will be sourced from your Google My Business page. Everything from your address and phone number to street view images get pulled from this profile.
If you haven't already built up your company's Google My Business page, now would be the optimal time to start. Aim to include and address the following:
Ensure you've selected the proper category for your business.
Include a high-resolution cover picture and profile photo.
Upload as many photos as possible.
Menus or other related price lists are often much-appreciated by searchers.
Your company's phone number and address.
Images of your staff.
Include a thorough, unique description outfitted with links.
Add the cities in your service area.
Add the services that your business provides.
Start cultivating positive reviews
Receiving numerous positive reviews can be extremely beneficial when it comes to upping your visibility on local SERPs. Google reviews (and the amount of "stars" you've accrued from them) will be plainly visible within the 3-Pack. This means that, ideally, you should work hard to garner positive reviews for some time before worrying about the 3-Pack.
Reviews on other local directory pages and review websites like Yelp can also influence your website's ranking. Apple Maps presently relies on Yelp reviews for information, and your success on other sites can help boost your rankings, too.
Start building up quality on-page SEO
We all know that performing a little search engine optimization (or SEO) never hurt anybody trying to improve their search engine rankings. There's a wealth of traditional knowledge and advice to be found when it comes to ramping up your SEO, but here are the basics:
Prioritize backlinks

Focus on quality over quantity
Get your site listed in as many local directories as possible (ideally they'll have some level of authority and be viewed as trustworthy by searchers)
Put out content that is strong enough to be shared and cited regularly
Create blog posts or articles designed as local resource lists (i.e. "The Five Best Coffee Shops in (Town)") and include your business

Funnel work into making your website mobile-friendly

Mobile friendliness is a known ranking factor for the Google 3-Pack
A Google study from 2017 showed that three in four smartphone owners look to mobile search first when it comes to addressing their immediate needs

Work your city name in at every opportunity

One 2017 study found that including your city's name in URLs, page copy, and title tags had a positive influence on rankings
How Local Leap Marketing Can Help
For almost two decades, the team at Local Leap Marketing has dedicated themselves to helping companies grow their brands and connect with their customers. We have extensive experience in providing our clients with thorough, personalized services designed to help grow the communities they're a part of. Our Website Design and Search Engine Optimization services have been perfected through time and experience in order to ensure that we can help you build the ideal digital presence.
Looking for support in your efforts to score a spot in the 3-Pack? Need a guiding hand to bolster your other web design, SEO, or social media efforts? Get in contact with us today! A friendly member of our staff will be eager to speak with you, address your needs, and begin helping you craft a roadmap to success– no matter what that looks like for you and your business.