8 Questions You Need to Answer for a Great "About Us" Page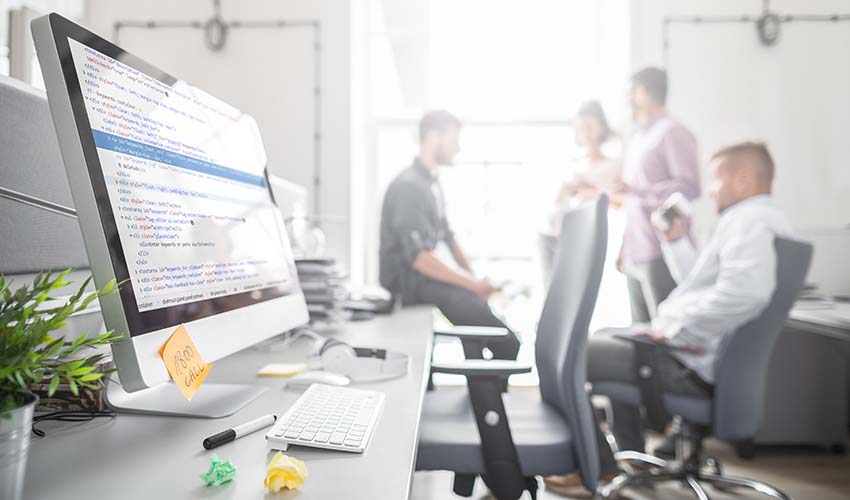 Your business should consider the "about us" page as one of the most important pieces of advertising you can create. Customers come here to learn about the people and the company they may choose to deal with now or in the future. Tell your story using the facts that brought you here today. Avoid fluff and filler to maintain a high quality of trust and reliability with your customers. People are looking for solutions that make their life more comfortable, and they want to understand what you have to offer. Relating to you is necessary for a successful business. This makes you personable and presents you and your team as approachable. Here are eight tips to help you present a story worth reading.
1. Who is your team?
Introduce each member of your staff with pictures and a link to their bios. Then explain their positions and the value they bring to the business. Not only does this give your customers a face to go along with a name, but it also makes them real people they can talk to when they have a question or concern that need to be addressed. Customers are more comfortable when they know there are "real people" available, and that there is someone available to speak with.
2. What are you offering?
Be specific about your business and what it is you offer on the "about us" page and save the detailed information for your sales copy. Explain the benefits of your products and the advantages of your services in-depth. This is where they start to get a feel for the core values of your company. Provide them with the proof they need from testimonials or reviews. You are creating the trust and confidence necessary to develop long-term customers.
3. Where are you located and what areas do you service?
The adage, Location is Everything, still applies in today's marketplace. Be sure customers can find you online and in person by listing your website address and physical locality on the "about us" page. Mentioning your location helps you connect with your local audience. People often prefer to do business with companies that are familiar with the local culture, preferences, and needs. By specifying the areas you serve, you're more likely to attract website visitors who are actually potential customers. This avoids unnecessary inquiries from individuals or businesses that are outside of your service range, saving both you and the potential customers time and effort.
4. When did you begin your business?
Having experience within your industry can be a big selling point for your customers, so be sure to include the year you began operations. If you have experience within the industry that predates opening of the business, tell them so. Include any certifications that you or your team members may give you a leg up on your competitors.
Businesses with a history in the local community have a positive effect on the confidence customers have when entering into a transaction with you. Family owned and operated ventures tend to promote reliability and experience because a reputation has been built and earned through generations of hard work. Include this fact on the "about us" page and remind the public about the founding generations and the experience they brought to the field. This account becomes part of everyone's story when they can recall times they interacted with you or your relatives. A bonding experience like this builds a devoted following that are brand loyal.
5. Why did you choose to go into this business?
The reasons you have for starting this venture can be huge to your customers. It may be the deciding factor between you or your competitor. Take a moment to explain why you chose this business and what you hope to achieve. Tell them what you can deliver and how you will do so. Emphasize the core values as they relate to your product or service. Recount the benefits to them and create a vivid picture that resonates with your audience. Help your customers understand your motivation.
6. How can someone become a client or customer?
Do you remember when we said that location was important? They can only become a customer if they can find you, and it has to be quick and easy. Make sure your contact information is available within the header or prominently displayed at the bottom of this page. By listing the data within the "about us" page, your customers will know how to find you and when you're available if you include your hours of operation. Make sure phone numbers, physical addresses (if possible), and email addresses are easily visible, and any links to you and your team members work. Each member of your team should also consider adding an email or phone number beside their photos to make it easier for customers to contact the right department or personnel. When your company is readily available to help their clients, they promote confidence, trust, and reliability.
7. What values drove you towards this business opportunity?
Endorse the values that brought you to this point in your business. It makes you more relatable to prospective clients and creates a bonding moment. If you are interested in offering personal or customized services that increase property values, state it clearly. State clearly how your business makes life easier and explain how you hope to accomplish this for them. Be honest and candid with yourself and your customers to attract the right audience to your niche.
8. Why are you different?
Differentiating yourself is an integral part of your business strategy, so be sure to highlight these points in your "about us" page. For example: If you only install metal roofs, explain why and the benefits they provide versus traditional shingles. This shows your customers why your reasoning is not only thoughtful but impacts their lives. It demonstrates dedication to a service or product that many customers can understand and relate to. If one of a kind products are uniquely personal to you, say so, and draw your clients into your story by telling them why you want to share this experience with them.
Some people have difficulty laying their stories out before their customers. Local Leap Marketing creates chronological stories that are engaging and appealing to the right audience. Contact us today and find out how we can make the process easier for you and your team.