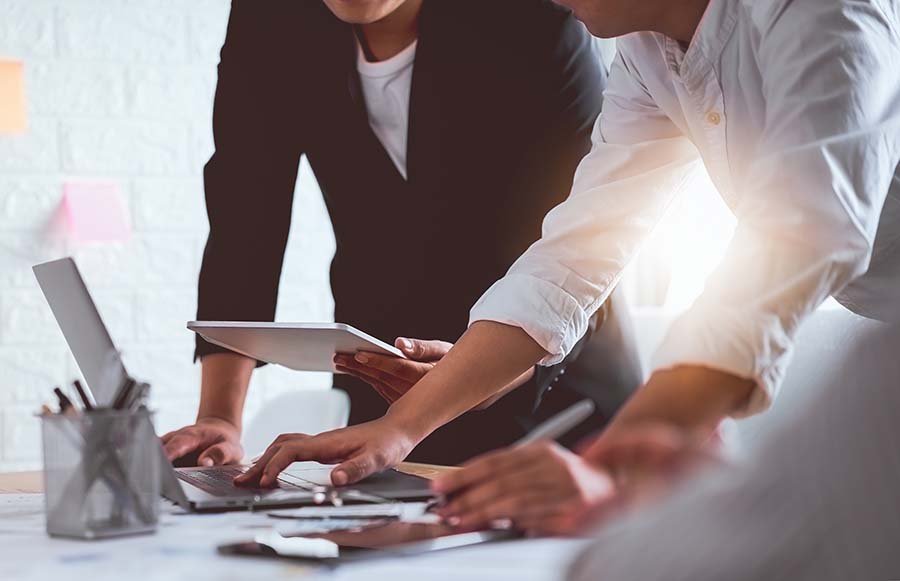 Search Engine Optimization, commonly referred to as SEO, is a must-have in our modern, digital marketplace. SEO maximizes your website, which is crucial marketing for your business. Your website enables people to find and contact you; it is where you craft your reputation, build your relationships with clients and grow your overall brand. A good SEO service provider will design your website to optimize exposure. If you have an existing website, your SEO partner will conduct a thorough analysis of your site to analyze search engine potential, then make informed recommendations for improvement. Importantly, the SEO partner will monitor your site and provide measured data to support continued growth and improvement. No matter what type of business you're in, SEO is a crucial element in keeping your brand healthy and competitive. As such, choosing an SEO partner warrants careful thought and analysis. What follows are considerations for the prudent business owner seeking to optimize their potential with SEO.

Why Invest in SEO?
Before we get into the what, let's cover the why. Why invest in SEO? In simple terms, SEO refers to techniques designed to help your website become more visible in organic search results when people are looking for your brand, product, or service via search engines like Google, Bing and Yahoo. Perhaps you want people to find your website because:
you want them to engage with you as a service provider
you want them to purchase a product you sell
you want them to become better acquainted with your brand
you want to educate them on topics related to a product or service you offer
you want to provide valuable content related to your product or service
you want to persuade then to support a cause you embrace
SEO Strategy
Now, let's jump into the basics of SEO to frame out what you should expect from an SEO service provider. Search engines like Google, by far the most common, continually update sophisticated algorithms they use to ensure that they deliver the most accurate and relevant results to their search users when they input search criteria. As a business owner, you want to ensure you are giving engines like Google all the information you can to help them discern a.) what you are all about and b.) how you are relative to the search query. SEO strategists employ several techniques to support this process. These include:
Accurate, Informative Content
Where are you located? What do you do? Having complete and accurate information included within your website is crucial to SEO, and using the right keywords is crucial to conveying the information. After conducting thorough research within your industry and marketplace, a good SEO service provider will build in specific keywords within your website to raise your ranking in the search engine results page, or SERP. To be certain, the placement of the keywords is an important part of the strategy because where you place your keywords (in titles, throughout passages, on multiple pages within your website) can greatly impact your search results ranking. SEO strategy involves the strategic placement of specific keywords throughout your website, including on product pages, the About Us page, within blog posts and on landing pages, both on and off your website. And then there are other content nuances, which might include:
Engaging in local SEO, which might involve having local landing pages to further enhance rankings within specific markets, or adding keywords specific to a region or area.
Ensuring adequate content on relevant topics, because this tells Google you are worthy of high ranking. In other words, Google isn't necessarily a fan of the "man of few words" they measure the amount of content available.
Routine Monitoring and Maintenance
Broken links don't just look bad to your audience, they tell Google your site is questionable. Using regular audits, your SEO provider can ensure your website functions properly and remains up to date. You SEO service provider will also keep tabs on the freshness of your content because search engines reward updated information. Afterall, they want to provide the best search results for their users to keep them coming back. Quality SEO monitoring and maintenance should also include:
proper server setting and adjustments to support page loading speeds
navigating the updating of multiple versions of similar pages
social media and third party integrations
security updates
domain registration, masking and renewals
Credibility Building
Search engines like Google assign value to links to other websites within your site. These are sometimes called "backlinks" or "inbound links." Something like a popularity contest, if many websites link to the same independent website, Google algorithms conclude the directed-to site has information others commonly seek and will, therefore, assign positive value to the site linked on your page. As a small business owner, you want to be on top of your backlinks. And, in fact, the concept works both ways, so your SEO service provider should guide you in campaigns to get your site on other credible websites.
Ancillary Services
Full service SEO firms employ in-house professionals to compliment their traditional SEO offerings. Though larger companies may maintain personnel, typically within their marketing division, to author content, manage social media and other functions related to the business website, smaller businesses without a marketing division can benefit greatly from a full service SEO partner. What's more, because SEO firms develop and grow their employees under the umbrella of SEO, their ancillary services are generally heavily SEO-guided, which can be a bonus. And, in fact, many companies with a marketing division partner their team members with resources from their full-service SEO service provider to serve as strategic resources for their team members.
The common ancillary services found in top tier SEO firms include:
keyword-specific page content development
fresh, SEO-informed blog content
guidance on, and the creation and integration of, your Google My Business page
review management to recruit and consolidate customer feedback from various sources
Actionable Analytics
There is no "one and done" when it comes to SEO. With the ever-changing search engine algorithms and the inevitable changes within your competitive landscape, updates are a prerequisite to online success. Your SEO service provider should be providing you with regular information on:
Keyword Rank Tracking
In SEO, keyword knowledge is essential. You want to know how your keywords are trending with weekly SEO Reports. You want to monitor how your keywords align with your competitor's website content. Detailed keyword analytics by location and language can be very valuable to some business owners, as can information on the type of device used to conduct the search. With information on search keywords you can watch for emerging trends and make adjustments to your content to capture the most potential and maintain your competitive advantage.
Backlink Monitoring
Are people coming to your site via another site? Are they jumping from your site to specific sites? Regularly monitoring the backlinks on your website will enable you to capture incremental opportunity and possibly ward off negative associations. Getting information on your competitor's banklink profile is also valuable as it can inform a backlink campaign for your company.
Site Audits
Your SEO provider should be crawling your site constantly to identify and resolve technical and customer experience issues. With this information, broken links can be quickly fixed, duplicate content can be eliminated, server errors can be remedied, and more. Basically, your site should be "ready for company" all of the time and this reporting should confirm how that is being made a reality by your provider.
Your Competition, As it Relates to SEO
You and your provider will finalize a list of competitors to be monitored as part of your SEO. Information like the competitor's SERP ranking, your keyword relevance to their website content and more should be made available to you. With this information, you and the provider should be able to build effective online strategies to counter competing marketing.
How to Vet Potential SEO Service Providers
When deciding on an SEO partner, you want to do some research. Word of mouth endorsements are valuable and a good place to start. Reviewing the feedback of existing customers of a potential SEO service provider can be informative. If possible, speak directly with the existing client. What have they benefited from? What changes did they make in their website at the direction of their SEO service provider? How have they engaged in the ancillary service offerings, if applicable? How do they use their analytics?
Directly interviewing your potential SEO service provider is also important. Many will offer a free introductory analysis of your current site and this is a great way to get to know the approach of the provider. When interviewing potential candidates, share your specific business goals with the service provider. Ask how their work can support your goals. Confirm they support any current site platform(s) you intend to keep in place. Find out if they are familiar with your business approach. Though specific industry experience is not always necessary, it does make sense in some cases, particularly if your line of work has significant nuances, i.e. B2B selling with proprietary plug-ins, e-commerce platforming, etc. Finally, don't be afraid to request specifics on past performance. Many SEO firms maintain current case studies for sharing.
Be sure to get a clear understanding of the cost structure. Services can vary. Some SEO firms operate via monthly contracts which will give you a predictable cost structure. Ask what is included and what are add-on services. Gather specifics on what your routine engagement will look like, who you'll be interacting with, what to do after hours, etc.
How to Evaluate Your SEO Service Provider's Performance
Perhaps you're wondering if your current provider is one you want to remain with or you're curious about how you'll measure performance once you engage with an SEO service provider. A very simplified measuring stick for SEO performance evaluation might be an increase in revenue beyond the cost of SEO. In reality, depending on the business you are in and what goals you've established for your SEO, it might actually look like:
more calls for service or more product purchases, if you are direct to consumer
more leads in your sales pipeline
more engagement with your existing customer base
increased consumer reviews, which, in turn, boosts SEO
elevation in SERP (search engine results page) ranking
an increase in visitors to your website
actionable data on your customer base
The full results of SEO investment may not show up immediately, but positive trends should emerge early. In fact, you should be able to monitor these trends through the reporting you are provided. Are you capturing more traffic? Where is it coming from? How have you changed in standing relative to your competition? What of value have you learned regarding your customer base that can be applied to your growth strategy?
SEO may be technical, but finding your SEO service provider doesn't have to be. With an understanding of what SEO can and should do for your business, you can be confident in what you're shopping for. Using the solid analytics you should expect to receive once you engage with the service provider, you will be able to monitor the effectiveness of your partnership. SEO is a smart tool to leverage what is arguably your business' most valuable marketing asset – your website. It should deliver bankable returns you can measure and capitalize on as you grow your business potential.